Product Details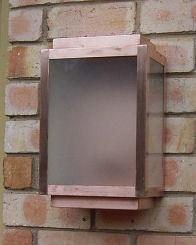 Code:

WC2

Name:

Wall Light WC2

Width:

230mm, 9.1"

Height:

350mm, 13.8
$340.00
Handmade contemporary copper wall light, translucent glass
The copper is not lacquered and will acquire a natural patina with age.
Dimensions of light may vary slightly.
The light has a provision to accept a light socket.
Brass light socket supplied.
Pls use a licensed electrician for installation.
Weather rating IP44 for outdoors.