Product Details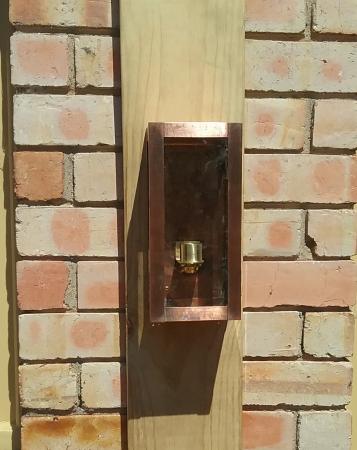 Drew St Wall Light, Slim Line
Ref No
Width
Height
Price
Cart
PW1
130mm, 5.1"
310mm, 12.2"
$295.00
PW2
170mm, 6.7"
310mm, 12.2"
$350.00
PW3
210mm, 8.3"
310mm, 12.2"
$410.00
Handmade outdoor period copper wall light.

Slim Line, where space is narrow and protrusion of the
wall needs to be minimal.

Size:
PW1: 310mm H x 130mm W x 80mm D.
PW2: 310mm H x 170mm W x 80mm D.
PW3: 310mm H x 210mm W x 80mm D.


" NO CORROSION "

The light is made from made form solid copper.

Ideal for Australia's harsh climate.
Seaside, tropical or temperate environment.

Finish: hand rubbed raw copper, which will in time
acquire a beautiful random natural patina only nature
can provide.
 
Dimensions of copper light may vary slightly.

Brass bayonet light socket - E27.
 
Rating IP44 for outdoor use.

Pls use a licensed electrician for installation.