Customer Testimonials
Cookware Testimonials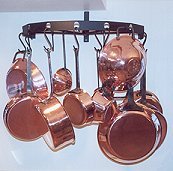 I am so thrilled with these absolutely beautiful pieces of copper cookware I just received from you. I used one of my pans to saute the biggest onion I have ever seen. The variety is called Wala Wala ... and they are incredibly huge. I have a glass top stove and the bottom of the pans used for cooking have to be flat to heat up the pan sufficiently. Your pans are flat and what a delight to cook with! I have never had onions cook so evenly and quickly. Here is the Picture with all the beautiful cookware and hanger you made for me.
Barbara O.
Grafton, WI, USA

---
We are very very happy. The quality is first class and perform better that ever expected, a pleasure to use in every way, again thank you very much. Matthew and Belinda
Kanimba Valley N.S.W.

---
Our copper pots arrived today and we are thrilled!!!! We love the craftsmanship. The handles on the pots and lids are wonderful. Tonight we cook! We are so thrilled, that we would like to order two more pots. Please send us the FP280, 11 inch fry pan, and the CL230, 9 inch casserole. You have our information, so please go ahead and execute the order. Thank you very much. We will spread the word, and seeing is everything. Sincerely, Jackie and Bob Ertmann
AJO, AZ USA

---
My wife was delighted with the cookware . She praised both, the design and the workmanship and used them straight away in preparing the evening meal. In short, let me assure you that your pots and pans are of a quality that we can appreciate and enjoy, and that we will be ordering more of them from you in the near future.
T.B.Badger
Columbia, MD - USA

---
I received the pan and I am very pleased. Thank you so much for the prompt and excellent service. I hope to use it for many years to come.
J. Day
Madison, N.J. - U.S.A.


---
You do beautiful work, the pans look great on my pot rack.
K. Kelly
Panorama City, C.A. - U.S.A.

---
Your casserole and frypan are beautifully made, as well as functional, one of the very best. Ideal for cooking.
Mrs L. Griggs
Hobart, Tas

---
As a cook who owned 3 restaurants, I find your copper cookware fantastic and of first class quality. I was very pleased with the service. Thank you. Mrs S. Demaro
Park Orchard, Vic

---
I received one of your saute pans as a wedding present. I'm very happy with the pan, it is deep, retains heat and is easy to use.
Mrs F. Holstege
Launceston, Tas.

---
Your copper cookware transformed my approach to cooking. I have gone back to basics. I prefer copper now to any other metal. My kitchen aesthetics have improved with all the copperware around.
Mrs J. Hodgeman,
Windermere Tasmania.

---
The measuring spoons and cups arrived ok. They are beautiful and fine works of art. Thank You
Stephen K
Tylet, TX, USA

---
My order (SPL175) arrived today, Oct 31. It is more than I expected. I would like to place another order - the 8 piece copper cookware set CWS8. Beverly M
Wagoner, OK, USA

---
The cookware set arrived Dec 3 and it is beautiful. I bought it for a wedding gift. I would like to add FLS150 (Flared Saucepan) to the CWS8.
Beverly M
Wagoner, OK, USA

---
Just to let you know the pots arrived on Friday (5-25-01). The cook using them is just tickled. We all wish to thank you for your fast service.
Laura M
Yreka, CA, USA

---
I received my much anticipated copperware from you today and to say the least, am thrilled. I look forward to many years of use from them, and also ordering other items in the future from you. You are a skilled craftsman. I just returned to the states from Vladivostok, Russia, having spent 6 years as Executive Chef for a hotel, and the US Consulate. Wish I would have had these pans then.
Bob L
Florence, OR, USA

---
I received my order (CWS8 cookware set) yesterday, June 15 2001. Thank you for a smooth, professional transaction.
Fine work. Quality, aestentically, and I fully expect, functional, for years to come.
Thanks also for making them affordable. I did do research before ordering and was unable to find anything equivalent at a reasonable (for me) price.
John S
Montclair, NJ, USA

---
I wanted to write to inform you that our package arrived safe and sound Thursday. The copper cookware is unbelievable. We are very happy with our purchase and look forward to ordering additional pieces from you in the future.
Jay & Amy
Charlottesville
V.A. U.S.A.

---
Just a quick note to let you know that my order arrived today and was perfect. Thanks for your wonderful service,
Khairil O
Shahalam S.D.E.
Malaysia

---
Today I received my eight piece cookware set and I cannot stress enough how AMAZING the craftsmanship is! Everyone is telling me not to cook with my new prized possessions and handing out all kinds of advice on how carefull to be. We will be using this new cookware as our primary set in the kitchen and showing it off as much as possible. By the way, I did, in fact, receive the shaker pan and it is just fabulous. Many thanks to you and anyone working with you to keep the art alive.
Sharon V
Wharton, TX, U.S.A.

---
I received my copperware CWS8 yesterday and am very pleased with it. I was wondering if it is possible for me to purchase an additional lid for the casserole as I would often use it at the same time as the sauté pan. I would also like to purchase a flared saucepan FLS200, 2 ladles LS100 and LS135, and a strainer spoon STS150 (all with iron handles). As you can see I really love my copperware and am amazed at the prices compared to some European brands. To anyone else doing a comparison: "You won't be disappointed with Lara Copperware."
Sue W
Goulburn, NSW, Aust.

---
Lantern Testimonials
I received the lanterns yesterday and they are beautiful. I know they will look great by our front doors. Thanks so much and I'll be sure and forward your name to anyone looking for copper lanterns.
Susan C.
Tuscaloosa, AL, USA

---
What a surprise, my girlfriend gave me one of your Hobart Lanterns as a birthday present. I'm over the moon, the lantern is absolutely beautiful.
Mrs J. Ransford
Liverpool, NSW

---
We would have searched the world for a craftsman who could design & make copper lanterns to complement the style of our hotel business. How fortunate we are to have found Lara copper in Australia. Ludwig Engler overlooks no detail and offers workmanship to the highest standard. We are proud to use his work in our developments.
Ralph & Suzanne Norton
Irish Murphy's Pty Ltd, Australia.

---
Just a brief note of thanks, for the excellent service you gave us in replacing the two missing Hobart copper lanterns. They look wonderful.
Dale Kapper
Commodore Regent Hotel
Launceston Tasmania.

---
Miniature Cookware Testimonials
Just a note to let you know the pans arrived today. I am very pleased! They are the most realistic miniature pans I've ever seen. Anxious to get them on display in my mini-kitchen.
R.L Westminster
CO. USA

---
I just received my order and it arrived safely. Your work is very, very nice. It almost makes me want to learn how to cook!! LOL I am so glad I e-mailed you that day. Talk to you later.
Avis B
Huntington , CA, USA

---
Your copper cookware is just wonderful.
Jacky B
Melbourne, Vic.

---
I did receive the items and they are fantastic. I can't wait to put the pot rack up.... you do beautiful work.
I will be sure to check out the new items.
Jan G
Charlotte, N.C. USA

---
The miniature copper cookware pieces arrived and are really amazing. Congratulations on being a great craftsman.
Wendy R
Bulleen, Victoria, Aust

---
HI! I received the copper pots and utensils. They are beautifully crafted and it is so exciting to have hand made craft in my dollhouse from Australia.
Thank you
Almme O
Blauvelt N.Y. USA

---
The parcel has just arrived and I'm more than happy to be the owner of these beautifully crafted miniatures. Thank you so much for everything.
Michiko A
Sendai, Miyagi. Japan

---
Sure enough! The miniature copper cookware arrived a few minutes ago - I adore it! It is the best scaled, and most realistic copper I have seen - your workmanship is absolutely loverly! Thank you so much! I am really looking forward to that Tea kettle! It is going to be just fabulous I am sure!
Thank you for making this beautiful cookware available and for doing loverly work! Have a terrific day! Warm regards,
Tracey A. M
Pottstown, Pa. USA

---
We have received the products on the 13th of December. They are just wonderful and we find them to be the most exclusive miniature copperware in the market.
Nole, 68000 Ampang,
Selangor, Malaysia.